The carpets in your home or commercial building are an important part of the overall decor, and their condition can greatly impact the first impression that visitors receive when they enter your home or business.
However, they also undergo a lot of foot traffic, and over time carpets and rugs can start to look dingy and dirty, which affects the entire look and feel of a room. At Ace High Carpet Cleaning, we're able to provide powerful, commercial-grade carpet cleaning services using Rotovac machines, to reach and remove even the deepest dirt and stains.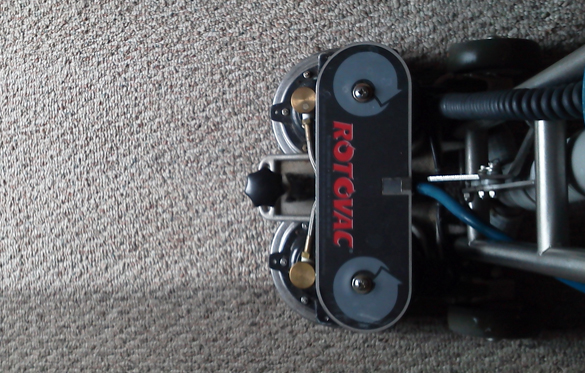 What is a Rotovac?
A Rotovac is a specific brand of professional carpet cleaning machines recognized as being the premier option in the industry. These commercial-grade machines have rotating brush heads that work like scrubbers and vacuums to give carpets a uniquely deep clean. The two brush heads spin in opposite directions to agitate the carpet fibers and be able to remove more dirt and stains through hot water extraction.
Through this technology, a Rotovac can get carpets cleaner than traditional methods can. Whereas most carpet cleaners use a more manual process that only cleans in two directions, a Rotovac cleans from all directions and can very quickly go over the same spot hundreds of times, for much better results. It's often used by professional carpet cleaning companies to remove dirt, stains, and debris from carpets in both commercial and residential spaces.
Types of Materials That a Rotovac Can Clean
Rotovacs are great at cleaning a wide variety of materials, including carpets made from nylon, wool, polyester, and other synthetic fibers. This type of machine is also capable of cleaning area rugs, upholstery, and even tile and grout. No matter what type of carpet you have in your home, a Rotovac can help you remove stains and shadowing to restore high-traffic areas to their former condition.
Why Choose a Carpet Cleaning Company That Uses a Rotovac
When you work with a carpet cleaning company that uses Rotovac machines in their cleaning process, like Ace High Carpet Cleaning, your carpet cleaning services will be:
● More thorough. The rotating brush heads of a Rotovac agitate the carpet fibers and lift out dirt and debris, providing a more thorough clean than traditional carpet cleaning methods.
● More efficient. The Rotovac's powerful cleaning capabilities can reduce the amount of time and effort needed to clean carpets, making it a relatively quick option, even for customers with large areas to clean.
● More visible. The combination of rotating brush heads and high-powered suction allows the Rotovac to effectively remove tough stains and embedded dirt from carpets, to truly give your space an instant upgrade.
● Longer-lasting. Rotovacs remove dirt and debris that build up over time and can cause damage to carpets, extending the lifespan of both your carpet cleaning treatment as well as the carpet itself.
● Healthier. The Rotovac's powerful suction also helps to remove allergens, bacteria, and other contaminants from carpets, helping individuals with allergies or respiratory issues.
Professional Carpet Cleaning Services in
Delaware and Maryland
Ace High Carpet Cleaning is your one-stop shop for all your Delmarva carpet cleaning needs. Our team uses Rotovac carpet cleaning machines as well as other professional-grade solutions to give the carpets in your home or commercial business an instant facelift. We've been providing unbeatable results and friendly customer service to customers throughout the Delmarva peninsula since 2006. Contact us today to request a free estimate or schedule your carpet cleaning services.